World Bank publishes Water Utility Turnaround Framework
December 28, 2018 | Water
The World Bank has published the Water Utility Turnaround Framework. This framework is designed to turn around water utilities, ensuring water provision that is transparent, financially sustainable and responsive to citizens.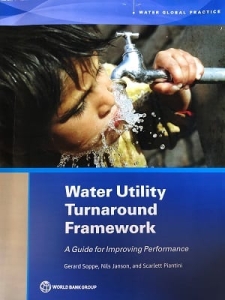 A Castalia team, managed by Scarlett Piantini, worked with Gerard Soppe and others at the World Bank to research and write the Turnaround Framework.
Over 660 million people lack access to drinking water and despite countless interventions many water utilities continue to perform poorly because they struggle to improve service sustainably. What makes the framework so impactful is that it integrates practical steps to increase a utility's operational and managerial efficiency with measures to reverse the dysfunctional political equilibria in which it operates.
The Water Utility Framework is a three-pronged approach which (1) strengthens the operational efficiency, (2) improves the governing environment, and (3) improves the access to funding for water supply and sanitation services. Once the framework tools are widely used (in collaboration with IBNET – International Benchmark for Water Sanitation Utilities) the World Bank will be able to track the performance and maturity levels of utilities over time.
Castalia is happy to have been part of the team that developed the framework knowing the positive impact it will have on people around the world.
The Castalia Team who contributed to the Turnaround Framework
David Ehrhardt is a recognized expert in developing innovative thinking on water sector reforms and private sector participation. Related works include Explanatory Notes on key topics in the regulation of water and sanitation services.
Scarlett Piantini led the production of the Water Utility Turnaround Framework and specializes in building institutional capacity to improve service provision and turn around utilities in the water sector.
Shannon Riley has advised 10 water utilities on institutional, operational, financial and organizational reforms to improve performance. She co-authored the World Bank report Providing water to poor people in African cities: lessons from utility reforms.
Jaime Hurtado is a financial and water sector expert who specializes in the analysis of operational, financial and institutional performance of water utilities in Latin America and the Caribbean.
Laura Saiki has worked on assessing the performance, efficiency, and operating costs of public utilities in countries across Latin America, the Caribbean, Africa and Asia.
Giang Doan has extensive experience identifying, evaluating and developing PPP structures for water projects globally. He also developed a PPP toolkit in the water and wastewater sector in Vietnam.