Both Australia and New Zealand have initiated unprecedented social and economic restrictions in response to COVID-19, and both appear to be about equally successful at bringing the epidemic under control. However, while the lockdowns in the two countries may look similar, they are in reality quite distinct in terms of their restrictions on economic activity and lifestyles. What can both countries learn from the differences in their approaches and what does it mean for a possible gradual removal of restrictions?
The New Zealand Government commenced self-isolation policies on 25 March 2020 with restrictions that focussed on confining people to the household unit (or "bubble"). Australia progressively escalated its restrictions, with a key lockdown announcement on 29 March 2020 directed at limiting activities where congregation of people occurs.
The Australian State and Federal governments, as well as New Zealand's government will face choices about whether, for how long and to what extent to continue with lockdown policies. The wellbeing impacts of the lockdown are large, even if difficult to measure right now. On one hand the policies appear to be limiting the spread of the disease. On the other hand, there are a range of other impacts on welfare.
From this comparative analysis, Australian policies appear, on the limited evidence, to be effective with fewer negative impacts on wider wellbeing. Australia also appears better placed to rebound when restrictions are lifted. New Zealand's policies have contained people to household "bubbles" with consequential impacts on activity such as work and education. New Zealand may have more difficulty rebounding.
The States and New Zealand are good comparators because all have similar urbanisation rates (between 86 and 90 percent), demographic profiles, cultures and legal systems.
Different Approaches to Lockdown in Australian States and New Zealand
New Zealand has a unitary government. Each Australian State is responsible for implementing its own set of rules. However, the public health directives implementing the restrictions are all very similar.  There are differences between the States' policies (for example, golf is permitted in New South Wales, but not Victoria), however, the general approach to workplaces and activities is the same.
With this in mind, while the headlines sound the same—Australia and New Zealand in lockdown—there are important differences between the two countries.
In summary, while borders are generally closed:
Australia's restrictions are activity based. Activities are limited where people can randomly encounter one another, but most workplaces are able to continue operating subject to compliance with social distancing rules
New Zealand's restrictions confine each household to their own "bubble". Leaving home is only permitted for acquiring essential items and for exercise. A limited set of essential services and businesses may continue.
The table below draws out the differences in more detail.
Table 1: Lock-down Policies in New Zealand and Australian States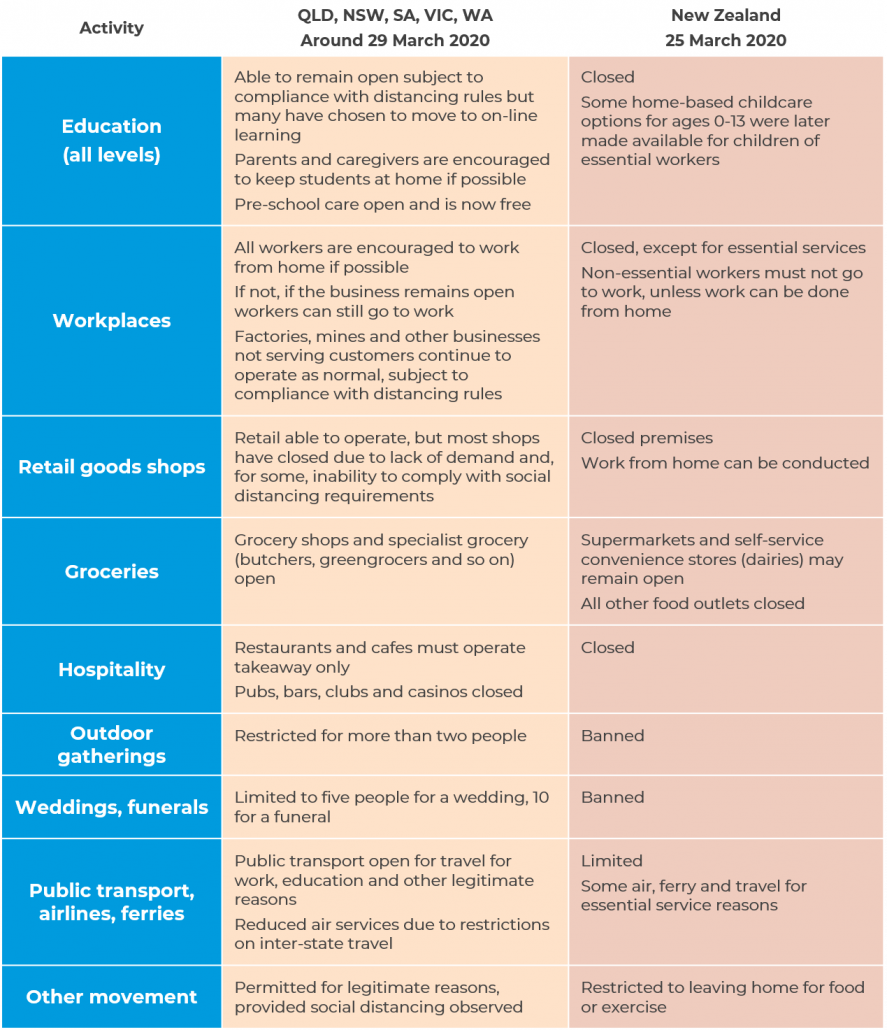 Source: Castalia
Australian "activity-based" approach allows a wider range of activity to continue
Australia's lockdown approach substantially reduced activities which involve large number of random interactions between individuals (in bars, restaurants, entertainment and sports venues) but largely left the economy free to operate subject to compliance with guidance about workers keeping social distance.
This means businesses can still function, even if in a low-level holding pattern. For example, even if a business is closed (for example, a pub) business owners can visit the premises to maintain equipment or catch up on paperwork. Employees can go to work, unless they are able to work from home.
Australia has allowed continued interactions between people in workplaces and education facilities. However, these are largely controlled settings: factories, construction sites, schools, tertiary education institutions. This means that employers (and if need be public health officials in case of an outbreak) know who is interacting with whom. Workers sign in and attendance rolls are usually kept. Interactions between people can be structured and rule bound.
New Zealand's "bubble" approach constrains more activity
New Zealand's household "bubble" approach limits all economic activity to essential services and work that could be done from home. All non-essential business that cannot be carried out from home has stopped. Essential businesses are those essential to the provision of life and the businesses that support them. For non-essential workers, this means that leaving the home is forbidden except for attending to essential business (buying food, seeking medical help or supplies, outdoor exercise near the home).
The effect has been to shut most customer facing SMEs. All retail except supermarkets and convenience stores are closed. Limited exceptions have been progressively made as the lockdown goes on (for example, modestly expanding the definition of essential goods, permitting groundskeepers to maintain turf).
The policies have had major implications for supply chains. Since essential items may only be sold, logistics has become more complicated. The food supply chain had to rapidly change since now almost all food is distributed through two supermarket chains, rather than wholesalers, specialist shops and cafes or restaurants.
2              Similar Epidemiological Results
On raw data, most Australian States have had a lower rate of COVID-19 spread than New Zealand.  New South Wales has had the highest rate of COVID-19 spread of the six jurisdictions, followed by New Zealand and South Australia. Queensland, Victoria and Western Australia have had a similar rate of disease spread. Policymakers should be pleased that the spread of the virus is being contained, as the number of new cases decreases. Allowing for uncertainties around testing and the small numbers involved, we could generally conclude that all Australian States and New Zealand have achieved broadly similar COVID-19 outcomes.
In Figure 1 below shows the rate of infections from the point in time that 5 cases per 1 million population were recorded in each jurisdiction. The disease appears to have arrived around two weeks later in New Zealand, so starting all jurisdictions from the same point is useful for comparison purposes. The chart shows a more rapid increase in cases in New Zealand, despite the earlier and more restrictive rules.
Figure 1: COVID-19 Cases per 1 Million Population Since 5 Cases per 1 Million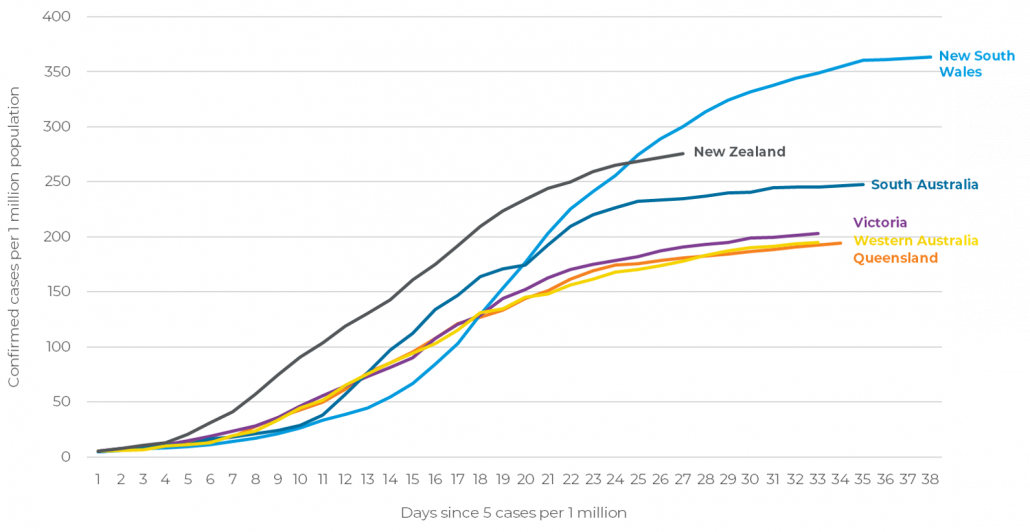 Source: New Zealand and State government announcements
Note: Current to 14 April 2020
All the States and New Zealand have seen a flattening of the epidemiological curve. Figure 2 shows the rate of increase of confirmed cases since lockdown policies were implemented. It is likely that lockdown policies have played an important role, in addition to other factors (for example demographics, climate, other behavioural responses).
Figure 2: COVID-19 Cases per 1 Million Population Since Lockdown Policies Implemented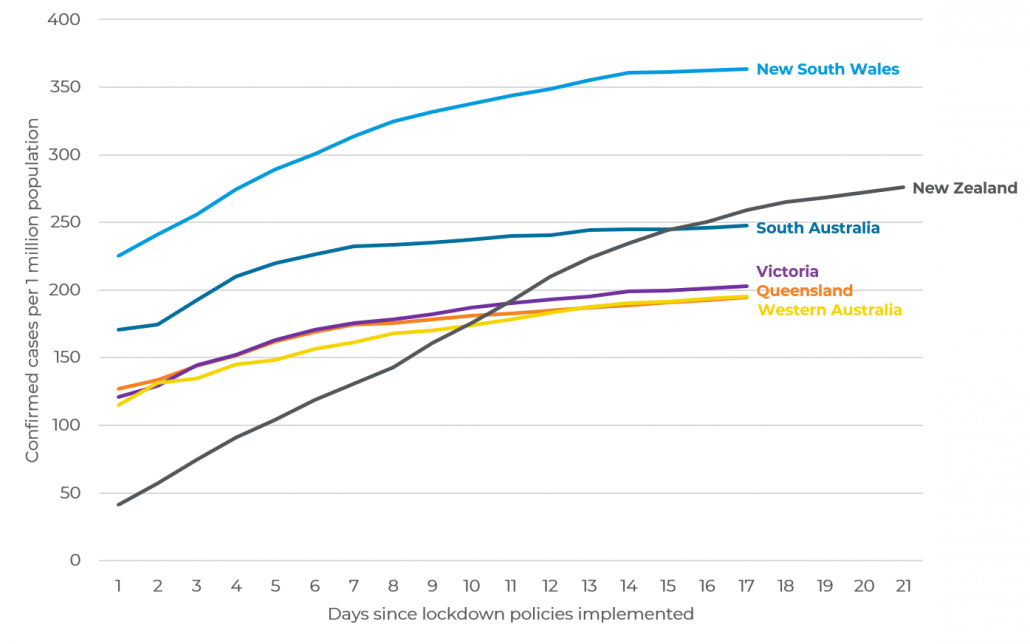 Source: New Zealand and State government announcements
Note: Current to 14 April 2020
Australia has high rates of COVID-19 testing but New Zealand is catching up
The rate of tests for COVID-19 has been high in Australia compared to other countries (for example, higher than South Korea, United Kingdom and United States). New Zealand has now increased its testing rate, but lags behind South Australia and New South Wales. New Zealand had conducted fewer tests per 1,000 population than all of the States until early April (when it matched Western Australia and then Victoria). Figure 3 illustrates this.
Figure 3: Testing Rates for COVID-19 per 1,000 Population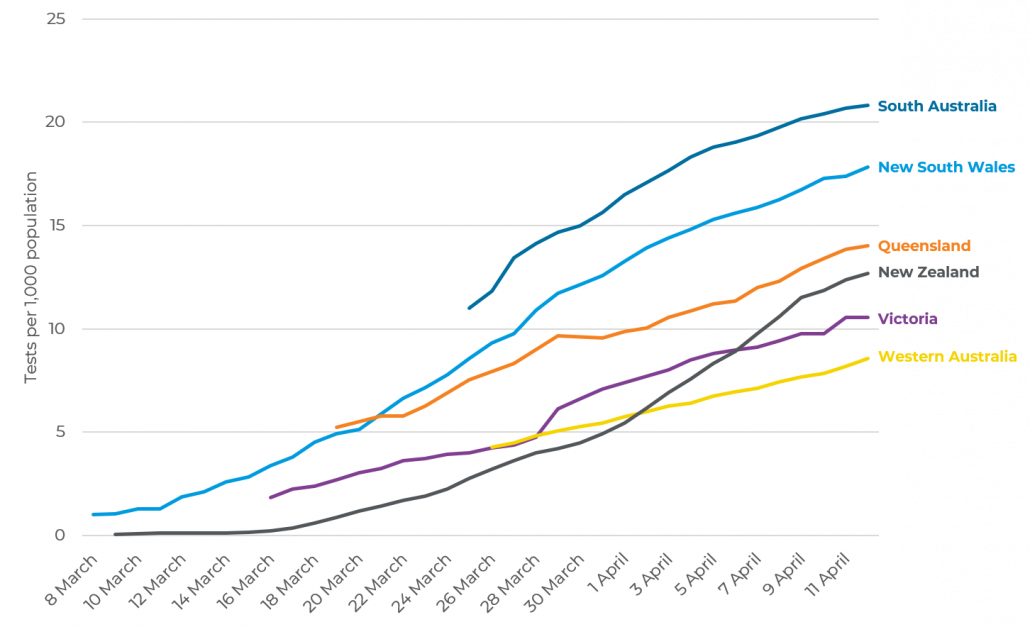 Source: Our World in Data 2020, www.covid19data.com.au
3               Policy Implications from Australia/New Zealand Comparison
Governments on both sides of the Tasman will face choices about the next steps to manage COVID-19. The choices are about whether, for how long and to what extent to continue with lockdown policies. There are trade-offs to make between the epidemiological and health outcomes and impacts on other aspects of wellbeing.
The impacts of the lockdown on wellbeing are intuitively obvious, even if it is difficult to measure some impacts right now. There are the positive impacts of containing the virus (reductions in spread, preventing serious illness and deaths). However, there are also serious negative impacts on other aspects of wellbeing. Shutting down large parts of the economy completely will also make the recovery more difficult.
Australian approach leaves the economy better placed to rebound when restrictions are relaxed
Most Australian States are managing to contain the spread of the disease even with continued controlled operation of businesses and other institutions. It appears from the data in Figure 1, above, that transmission has been slowed. If outbreaks do occur, public health officials can probably more easily track the spread (so-called contact tracing). Workplaces and educational institutions are controlled and structured places, where entry and attendance can be recorded.
Australia seems better placed to recover from the lockdown period. While many businesses have been closed to the public, some ongoing 'holding pattern' activity continued. Many other businesses, including SMEs, have remained operational.
This means that when lockdown restrictions can be lifted, Australian businesses will be better placed to rapidly respond to consumer demand. Employees are more likely to have been retained. Trade will have continued for some businesses.
New Zealand will have more challenges in the post-lockdown phase
Most businesses in New Zealand will currently have no or very limited revenues, but will have continuing costs such as rents, wages and other bills. This will have consequences for ongoing viability and employees' prospects. New Zealand's firms are mostly small or medium sized enterprises (SMEs) without large balance sheets to absorb major shocks. Young people are not in education or are being supervised by parents at home, which creates its own pressures. There will be mental illness ramifications because of continued confinement, job losses and uncertainty about the future. Police are reporting higher instances of domestic violence due to people being at home with each other more than usual.[1]
When the lockdown policies are lifted, the businesses that are still in operation will face a double challenge. Consumer demand be suppressed, and many New Zealand businesses will have the additional challenge of restarting from zero activity.
EDIT: An earlier version of this blog did not make clear that some public transport in New Zealand continues to operate.
Update: On April 21, this blog post was referenced by The New York Times in their article about New Zealand's economic recovery post COVID-19.
---
[1]    https://www.nzherald.co.nz/nz/news/article.cfm?c_id=1&objectid=12324065
Image by Fernando Zhiminaicela
---
About the Authors: Andreas Heuser is a Manager in Castalia's New Zealand office and Alex Sundakov is Castalia's Executive Director in Australia.
Disclaimer: The views expressed are those of the authors alone. This work has not received funding from any other organisation or interest.
https://castalia-advisors.com/wp-content/uploads/2020/04/virus-4970581_1920.jpg
1200
1920
Site Admin
https://castalia-advisors.com/wp-content/uploads/2019/03/castalia-logo-white_transp.png
Site Admin
2020-04-14 08:27:41
2020-05-03 19:36:12
Comparing the New Zealand and Australian states' responses to COVID-19